Residential Plumbing Services
Competent & Comprehensive Plumbing Solutions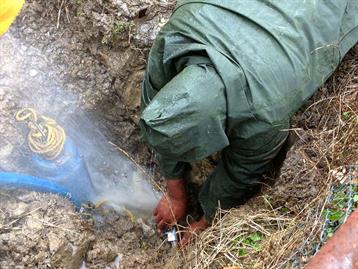 Your plumbing is a major system that is a core part of your property's value. If any leaks occur on your property, the issue must be dealt with as swiftly as possible. At Australian Leak Detection™, our skilled leak detection specialists can find any breaks in your lines. When you're in need of leak detection in your plumbing system, you have choices in companies.
If you have received a large water bill, notice from the council or have a random wet spot occurring in your garden, at Australian Leak Detection™ our skilled leak detection specialists can find any breaks in your lines. It doesn't matter if the leak is under concrete, bitumen or in your garden, we have the technology and expertly trained technicians Guaranteeing to find your leak with no damage to your property. By using an independent leak detection company that only specialises in finding the plumbing leak you are assured that the detection is efficient and correct, there is no destruction of your property and an unbiased report where we do not profit from the repairs.
Our quoting process is different than all of the others, however. We don't use any bait-and-switch tactics, where you're given a low-ball price at the outset and wind up paying for upgrades and hidden fees. Our expertly trained technicians offer upfront estimates for our detection services and keep you updated, so there won't be any surprises on your bill.
Ask about our guarantees, too. We're known for Leak Detection Without Destruction™ because of our technologically advanced evaluation methods. We know that residential plumbing problems can disrupt the entire household, so a rapid response is our goal.
Give us a call at to speak to our helpful and knowledgeable staff.
We Solve the Mystery of "Mystery Leaks"
Our leak detection technicians arrive at your home with advanced technologies. There's no need to dig up or tear out any part of your property. Accessing the pipes is as easy as turning on an electronic device.
Your technician may use several tools, such as:
Ultrasonic detectors
Cameras
Acoustical elements
Give your technician any information about the leak as you've experienced it. They'll use this information to guide their movements across the property. We strive to give you a value-oriented service, detecting every possible leak.
A non-invasive approach to leak detection within your plumbing system is how Australian Leak Detection operates. Think of us for your other leak detection needs too! If it leaks, call the experts. We'll find and identify issues to protect your property investment from potential water damage. Water is a corrosive element, which makes our leak detection services critical to the life of your pipes. Save water and improve your home when you partner with Australian Leak Detection.