Residential Pools, Spas, and Fountains
Don't Let Leaks Spoil Rest & Relaxation
Maintaining a residential pool or spa is a lot of work. When a leak occurs, it can lead to extensive water damage and increases in water utility bills. This is why it is vital to act quickly if you suspect a leak in your pool or spa. Australian Leak Detection™ is a company with years of experience in this industry.
Saving Money With Australian Leak Detection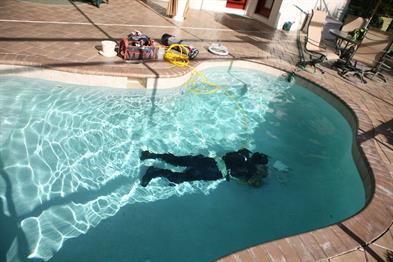 One of the biggest benefits of working with Australian Leak Detection is our fair and transparent pricing model. Unlike other companies in the area, Australian Leak Detection will not charge hidden fees or surprise upcharges. Once you receive an estimate from our team, you'll receive updates on any changes to the cost of the service. There will be no surprises at the end of the job. Additionally, our Leak Detection Without Destruction™ promise means that you do not have to worry about our team causing further damage to your pool or spa.
Our Trained Professionals
Our company places an emphasis on hiring trained leak detection specialists to help customers. Not only do these specialists have applicable experience in the industry, but they have also passed extensive training in order to work with our team. With Australian Leak Detection, you will have confidence that trained professionals will complete every job efficiently and at a reasonable price. Fixing a leak quickly is vital to preventing further damage.
Finding your Pool, Spa & Water Feature Leak
We use exclusive leak detection technology to find leaks in pools, spas and water features. Whether its concrete, fiberglass or a vinyl liner, finding and fixing your leak is now only a phone call away. Our testing consists of a pressure testing on the pool filtration lines and inspection of the filtration equipment. Structure testing can also be conducted to locate any leaks underwater caused from cracks in the shell, hydro valves, lights and penetrations. We also offer a full REPAIR SERVICE. Minor repairs can be conducted on the same day and with larger repairs, an estimate is provided for a prompt repair to be completed once approved.